Note: Graphic content.
Since it's October, I'm in the mood for a scary story.
Like everyone, I have my limits. Still: Recently, I've found myself drawn to horrific tales. For example: Evil Dead (2013):
It is with that in mind that I address the subject of this post: Tokyo Red Hood. (Some spoilers.)
A manga about a masochistic, demonic Little Red Riding Hood and the organ harvester she works for. Featuring an angel who will kill at the drop of a hat, and a God who I would describe using the following gif: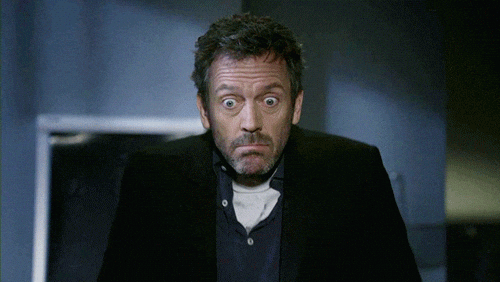 Now, I must admit: I have not read Tokyo Red Hood yet. Which is why this post is just my "first impressions." I don't have the means to get the manga yet, but it's been on my mind since yesterday. (11:56 — 13:09)
So why are you even talking about it? you might be thinking. After all: I won't be able to really give my thoughts on the story until I've actually read the story.
Good point.
This is why I feel compelled to talk about it:
Researching Tokyo Red Hood, three thoughts came to mind:
This quote by Stephen King: "We make up horrors to help us cope with the real ones."
This Bible verse: "Have nothing to do with the fruitless deeds of darkness, but rather expose them." (Ephesians 5:11)
And this Bible verse: "Whatever is true, whatever is noble, whatever is right, whatever is pure, whatever is lovely, whatever is admirable — if anything is excellent or praiseworthy — think about such things." (Philippians 4:8)
My point being: Even if it's trying to do the opposite, Tokyo Red Hood — with its murder, disembowelment, and worldview that could be described as "Blasphemous" — is pointing to God.
I've heard it said that the Devil is out to utterly destroy every aspect of creation — that, if it were up to him, not even atoms would exist. Why? Because: Every created thing, because it is a created thing, no matter how seemingly sick and twisted, ultimately has its roots in God, the first creator.
As C.S. Lewis put it:
'Creation' as applied to human authorship seems to me to be an entirely misleading term. We re-arrange elements He has provided. And that is surely why our works never mean to others quite what we intended; because we are recombining elements made by Him and already containing His meanings. Because of those divine meanings in our materials it is impossible that we should ever know the whole meaning of our works and the meaning we never intended may be the best and truest one.
This doesn't mean I'll like Tokyo Red Hood. This doesn't mean that it won't, for me, cross the line of good taste.
But: There is goodness, truth, and beauty everywhere. Even in the darkest depths of Tokyo Red Hood.
And that is nothing to be afraid of.