Although it is proper to each individual, original sin does not have the character of a personal fault in any of Adam's descendants. It is a deprivation of original holiness and justice, but human nature has not been totally corrupted: [It] is wounded in the natural powers proper to it, subject to ignorance, suffering and the dominion of death, and inclined to sin – an inclination to evil that is called "concupiscence." Baptism, by imparting the life of Christ's grace, erases original sin and turns a man back towards God, but the consequences for nature, weakened and inclined to evil, persist in man and summon him to spiritual battle. (Emphasis mine.)
~ Catechism of the Catholic Church, Section 405
As a Catholic, one aspect of my faith that I struggle with is the Blessed Virgin Mary, the mother of Jesus.
It's not fair, I've thought more than once. If God can just create people free from Original Sin, like Mary, and thus spare them the possibility of ending up in a place like Hell, why doesn't He do that for everyone?
I know God is love. I know God has a plan. But still: I look at all the horror in the world…
…and think Can God do nothing?
I'll struggle with these questions all my life.
But, lately, I've found something that makes the struggle more bearable: Witchcraft. Specifically: Kiki, from Kiki's Delivery Service (1989).
Kiki helps me to understand what it can mean for a person to be free from sin.
Having recently re-watched Kiki's Delivery Service, there is only one instance I can remember where Kiki committed an act that could be called a "sin." She disobeys a cop, running away from him upon being told to stay put after causing an accident. But the accident was just that — an accident. And after the cop dashed off to pursue a thief, there was no telling when he'd be back. Or if he'd even be back at all. She does avoid a police car she sees driving through the park. But, other than taking a page out of Johnny's playbook…
…Kiki is a law-abiding citizen. As free from imperfection as Mary.
I often imagined Mary as emotionless, mindlessly going through one aspect of God's plan to the next because there was nothing keeping her from doing otherwise. Mary was a puppet, and God was pulling her strings.
But, as a result of Kiki, I no longer think such a thing. I believe the absence of sin doesn't mean the absence of one's humanity (i.e., one's emotions, feelings, and intellect). What it means is the perfection of one's humanity; one's humanity being directed toward that which will do the most good for all.
I think of my favorite scene in the film. Kiki goes to an old woman's house in order to deliver a birthday present to her granddaughter. Only to find that, because of a broken oven, the potpie has not been baked and, thus, there is no delivery to make. Saddened that the delivery girl came all this way for nothing, Madame asks her maidservant to pay Kiki anyway. Not feeling that it is right to take money from a person she has done nothing for, Kiki insists on baking Madame's gift in an older, long-neglected oven instead.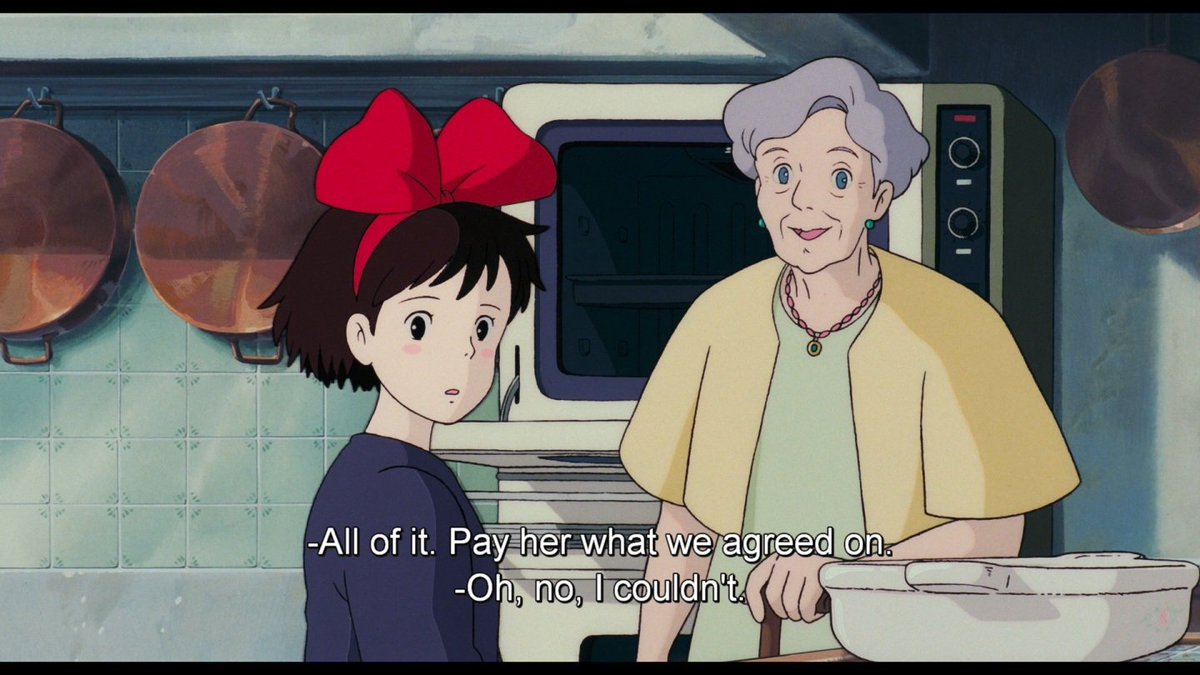 It is her desire to help others, and her insistence on a job well done, that drive Kiki to go above and beyond the call of duty. "A desire to help others" and "An insistence on a job well done" being qualities that I believe anyone, regardless of their beliefs or absence of beliefs, would praise. Such qualities are examples of human nature at its best. In such a situation, who wouldn't want to be Kiki?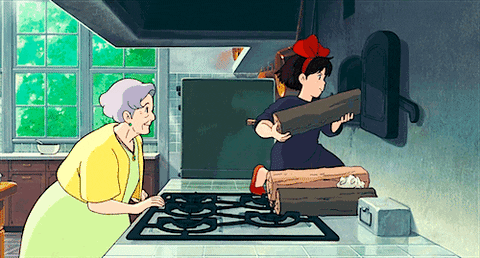 I believe Mary is the same way. She goes above and beyond the call of duty for the sake of the well-being of others.
Upon being told that God would impregnate her, Mary's reaction was not…
…it was: "Let it be done to me according to your will." (Luke 1:38)
To me, Mary always seemed alien and unapproachable. How could I even begin to have any kind of relationship with such a person? Every word I read about her, I felt like she was rubbing her perfection in my face. Scolding me for not being just like her. As a result, my feelings for Mary turned from revulsion, to jealously, to anger.
But no more. Through Kiki, I believe I can better see how Mary lives.
When I was little, God was there and wonderfully granted my dream.
On mornings when I wake up with kindly feelings, even though I've grown up, miracles happen!
Opening the curtain, tranquil sunlight filtering through the trees.
If it envelopes me in tenderness, surely everything reflected in my eyes will be a message.
When I was little, God was there and every day he delivered love.
Inside my heart, I had forgotten my precious box of good memories.
The time to open it is now.
~ An English translation of "If I've Been Enveloped In Tenderness"