Note: Thank you to TheOriginalPhoenix. Her post Self-Care Isn't Selfish is what inspired me to write this post.
It's now been 3 years since I made the choice to come home after my second semester of university.
Bad grades, combined with not knowing what I wanted to do with my life, made me realize I need time to get my head on straight.
Coming home was a choice that almost killed me.
So, in this post, I want to share with you what I have done in order to keep myself motivated to get out of bed in the morning:
Get a job. I initially balked at the prospect of getting a job. But I knew I had to do it — I knew that I didn't want to spend my life on the couch, living off the charity of others. So, despite the grumbling of that lazy, entitled, refuse-to-take-responsibility part of myself, when a job opportunity presented itself I jumped at it. And I am so glad I did. Sure, my work could use improvement. More than once, my boss has expressed disappointment at my performance. But, I keep at it. And I figure that as long as the paychecks keep coming, than I must be doing something right.
I'm not at Kiki levels of productivity…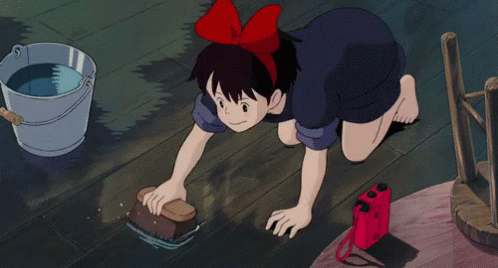 …but I'm getting there.
Plus, if nothing else: My job allowed me to have enough money to get an Xbox One after my Xbox 360 got the Red Ring of Death.
Have a spiritual life. If you're spiritual/religious than, if you don't already, get in the habit of praying at least twice a day — a prayer before you go to sleep and a prayer right after you wake up.
Even if it's only 5 seconds long and consists of two words — "Hi, (insert name of higher power here)." — praying will do you good.
As the name of my blog implies, I'm a Catholic. I was raised in the Catholic faith and, so far, my faith hasn't let me down.
Realize that you aren't alone. Chances are that if you're reading this post, you're in a similar position: You're not in college and are wondering What the deuce do I do now?
Well, one of the ways to not despair is to know that you aren't struggling alone. There are people who have gone through, or are going through, what you are, and either they need you to help them, you need their help, or both.
After all: In order to slay the Kaiju that is Despair, you can't do it alone…
(I picked Crimson Typhoon because, even though it does get destroyed, I think it's the coolest Jaeger.)
Surround yourself with beautiful things. I don't know about you, but: The 24-hour news cycle of terrorist attacks, natural disasters, presidential incompetence, rapes, and murders depresses me. It makes me ask the one question I never want to find myself asking: Should I keep on living?
So, what do I do? I focus on the good in life instead.
For example:
Instead of scratching my head over Donald Trump's latest tweet…
…I listen to my favorite song instead:
It's much more relaxing.
Do what you love. I'm currently teaching myself how to write screenplays.
I'm doing this because I discovered that, in my free time, I would frequently read film reviews. There was just something about the reviews by Steven Greydanus and Jeffrey Overstreet that hooked me. That kindled within me a passion for film. A passion to not just critique art, but create it. Because anyone can criticize. But not everyone can create.
Lately that passion to create has, unfortunately, been fueled by anger at the incompetence of fellow Christian film enthusiasts…
…reviewers are sadly out of touch with ticket buyers. In fact, they are so far out of touch that most of them pick only one blockbuster movie, and many mediocre "independent" movies and boring foreign language movies that appeal to only a few moviegoers.
~WAR ROOM's A+ cinemascore tells the story
…but still: I'm glad to be doing something I love. Even if it can be hard.
And:
Love yourself.
You're not perfect.
You've failed before, and you're going to fail again.
But is that going to be the end of you?
No.
Why?
Because: You love yourself, flaws and all.
You know that what you have to offer the universe is unique.
And you know that it'll be a cold day in Hell before you let life get away with sucker-punching you.