As a man, when discussing abortion I often hear words to the effect of "You're not a woman, so what you think doesn't matter."
So, honest question:
Why is it considered OK for a woman to give her views on issues facing men, but not vice versa — it's not OK for a man to give his views on women's issues.
For example:
A woman, Kali Holloway, writing about what it means to be a man.
Specifically: Writing about masculinity.*
More specifically: Writing about toxic masculinity: Toxic masculinity is killing men: The roots of male trauma
My thoughts on this question:
Since "masculinity" — i.e., how men see themselves and their fellow man — is, as the meaning of the word implies, an issue that uniquely effects men, should a woman have a say in such an issue?
On the one hand: Yes. How men see themselves effects not just men, but women too. Specifically: It effects how men will treat women.
On the other hand: No. A woman will never experience, in the same way that a man will experience, what it feels like to hear words like "Be a man." i.e.: A woman will never be effected in the same way that a man will be by the issue of masculinity. (Hence why I said that masculinity is an issue that "uniquely effects" men.)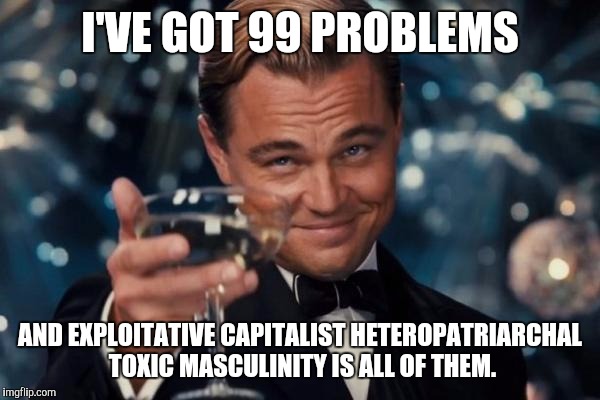 Conclusion:
So, if it's OK for a woman to give her views on, for lack of a better term, "man subjects" like the question of "What does it mean to be masculine?" since masculinity effects not just men but women too, than how is it not OK for men to talk about "women subjects" like, for example, abortion, since the death of offspring does effect men too by, for example, denying a man the opportunity to be a father.
*Masculinity: Possession of the qualities traditionally associated with men.