Contains spoilers for Life is Strange.
Everything great about Life is Strange (in no particular order):
A Protagonist Who Isn't Ellen Page
Ellen Page accuses 'The Last of Us' developers of 'ripping off' her likeness
I have nothing against Ellen Page. I think she's a good actress.
But: She seems to be the go-to woman when making movie-esque video games.
Which is why: I'm glad Life is Strange is blazing its own trail by — as far as I know — having a protagonist not based on a real person.
Choices That Matter
Whenever I heard this…
…a chill went down my spine. Even when (I thought) I'd made the most compassionate choice possible. I didn't know how my choice could come back to haunt me. But it just might! Anything was possible when I saw that butterfly.
Not every action has consequences…
…but the ones that do caused existential panic.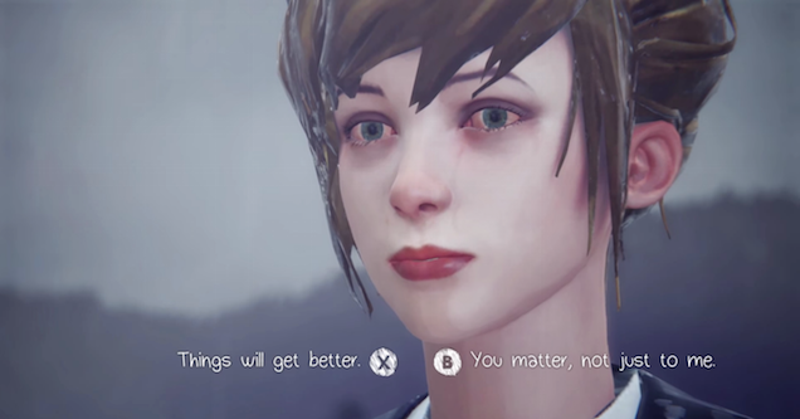 Thank you, Life is Strange, for making me ask myself What am I doing with my life?
The Setting
Living on the west coast, the fictional town of Arcadia Bay, Oregon, made me see my home in a new light, and appreciate it more.
As someone who is currently itching to put home in their rearview mirror and go out into the wide world…
…it did me good to realize that there is more to my home than I had previously thought.
On a related note: Against the Cult of Travel, or What Everyone Gets Wrong About the Hobbit
Lately, just sitting back and listening to the Life is Strange soundtrack reminds me that, currently, I'm exactly where I need to be.
That's another thing that's great about Life is Strange: The chances the game gives Max — and, thus, you — to just stop, sit, and think.
Complexity
There is a lot of grey in Life is Strange.
Choices that I thought were right, and made with the best of intentions, came back to haunt me.
Choices that I didn't think much of at the time had consequences I didn't imagine.
And characters who, at first glance, I thought I had all figured out, revealed sides to themselves that made me go "Wait. What?"
I believe in good and evil.
But good and evil isn't always as easy to tell apart as black and white. And I'm glad that Life is Strange acknowledges that reality.
Love
I'm glad that Max's and Chloe's relationship isn't romantic.
Unless you allow it to be:
The reason I say that is: There is no shortage of stories about romantic love between two people. The first story that comes to mind is Titanic (1997).
And so I'm glad Life is Strange's story can revolve around a platonic — i.e., non-sexual –relationship between two people: Former best friends Max and Chloe.
Because: I feel like not a lot of love stories do that — explore love from a non-sexual perspective.
Tough Love
Near the end of Chapter 3, Chloe and Max get into a fight after a revelation about Chloe's missing friend Rachel Amber.
I'm glad Life is Strange gave me the option to tell Chloe "Grow up. You're not the only one with problems."
This is why: I've run across a lot of people saying Chloe isn't a good person. And such a view is justified. For example: Chloe asks Max to steal money from a fund for handicapped students so that she can pay off a debt to a drug dealer.
But the reason actions like that ultimately don't bother me is: I don't have to stand for it.
I can put my foot down and basically say "Chloe, you're out of control." Whether or not Chloe will listen to me is another matter. But at least I can make it crystal clear where I stand on her life choices.
Max's Nightmare
Max's nightmare in Chapter 5 is one of the most surreal things I've ever seen.
Part of me is too scared to play through it again. At night, at least.
But another part of me wants to play it again purely for the sake of playing the Stranger Things theme as I navigate the endless hallway: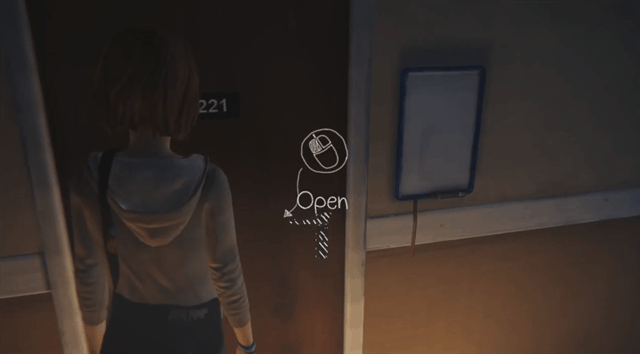 This Scene
The Soundtrack
The more I listen to it, the more the Life is Strange soundtrack becomes one of my favorites.
For example:
Twists And Turns
"Predictable" is not the word I would to describe Life is Strange.
It's the kind of story that made me think I've been playing for almost 4 hours, but this chapter isn't going to finish itself!
It's one of the few series I've binge-watched/played. (The others are: Daredevil, Luke Cage, and Eureka Seven.)
And lastly:
The Ending
Chloe's realization at the end of Chapter 5 is one of the most beautiful, heartbreaking things I've ever seen.
0:00 — 3:26:
It's one of the reasons that I don't believe the world needs more "Christian movies"…
…the world just needs more goodness, truth, and beauty. No matter where that goodness, truth, and beauty comes from.
Whatever is true, whatever is noble, whatever is right, whatever is pure, whatever is lovely, whatever is admirable — if anything is excellent or praiseworthy — think about such things.
~Philippians 4:8